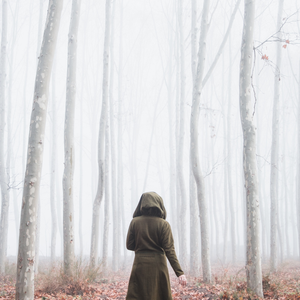 It was fate that got Stuart, Jon and Tony together. Stuart Glanville first met Tony Ross at 6th form college. Tony was in a band which had formed in Alton, Hampshire around 1980.  They needed a bass player, and Stuart offered to join despite the fact that he was rubbish at bass playing. They were called Elfinrabble, and played songs about mythical creatures, and other psychedelic experiences. Pretty soon they realised they needed a real bass player, and via an advert in the Melody Maker music paper, they found Jon Bicknell, a proper Bassist. Stuart went on to play guitar and bass very badly in other college bands. 
Tony eventually left Elfinrabble. He asked Stuart to form a duo in the style of OMD. They named the band "Pretzel Logic" (after the Steely Dan album) and borrowed a basic drum machine from a friend and started writing and rehearsing songs in Stuart's parents' garage. Stuart returned to bass duties, and in addition took on the vocals. It became clear after the first gig in a college in Alton that they needed a proper bass player. They wondered if Jon Bicknell was free and would join, and popped the question to Jon after the gig. To their eternal relief Jon agreed. The trio then decided on a name and "That Sfumato Effect" was born. 
They started writing quirky short songs about Thunderbirds, Blake's 7, Lawrence of Arabia and any other weird idea that entered their young minds. 
The very first gigs were Jon, Tony and Stuart playing their songs to the accompaniment of a Roland drum machine, operated by college friend Marc Roberts, who will forever be remembered as the original fourth member who would get no money when the band becomes as famous as The Beatles. Eventually, Roland and Marc were retired in favour of another college friend, Mark James, who not only played real drums, but looked a bit like Stewart Copeland, so he was basically voted in before he even got his sticks out. 
Numerous gigs ensued, the band now attracting quite a local following, the band even got reviewed by a journalist from a local paper who described them as witty and original. 
But unfortunately, That Sfumato Effect were not to last. Jon, forever after to be known as "the splitter" left the band and joined a mod group.  
Fast forward 40 years and by another cruel twist of fate, Tony, Stuart, Mark and Jon were reunited. Social media is to blame. Although Mark had moved on with his life, and didn't have the time to commit to his role as drummer, Tony, Stuart and Jon all felt that even after so much time had passed, they still had unfinished business to bring to the masses.  
So after a 40 year absence from the music scene, That Sfumato Effect reformed and have been working on their extremely late debut album, which will be released later this year in various formats. 
The album title is "Where Are The Angels?" named after the title track, which is a social comment on how the world is going to hell in a hand cart. The other songs are variously about drugs, the nature of grief, nature, a posh girl who works in the city, heartache and a gorgeous personal love song penned by Stuart.  
Welcome to our journey. Stick around, it's gonna be a blast.