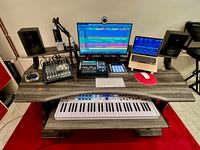 As is most common these days, TSE record and create our music in our bedrooms, basements and small home studios. As I spend most of time recording, producing, mixing and mastering music for the band, I thought it might be interesting to give some insight and background with regard to some of the equipment that is used in the creation of our music. 
I started my recording journey using Logic Pro X, which was my first attempt at using Digital Audio Workstation software (DAW), technologies replacement for a traditional recording studio environment. Ideas and early demos for some of the tracks that will appear on our debut album (did we tell you we have a new album coming out soon) were created using LPX. 
I later switched from using a iMac to a PC for music production to using PreSonos Studio One as my DAW of choice. However, it wasn't long before I went back to using Apple hardware, but strangely enough, I took Studio One with me. It is now my DAW of choice. There are plenty of great DAW's out there (FL Studio, Ableton, Pro Tools, Reason, Audacity, etc) but the best advice I constantly hear is stick with the gear you know. Most DAW's all have the same, if not familiar, capabilities. Better to master one than switch between different software options. 
My home studio set up has changed through the years, but here is a list of the current equipment I use. At the heart of every home studio is of course the PC or laptop, which in my case, is a MacBook Air M1 laptop from 2020. In the past, it was possible to use an MacBook Air for music production, but the processor and laptop build wasn't up to the job of handling large multitrack sessions. All that changed when Apple introduced the M1 chip, which is more than capable of running 100+ track projects. 
My small mixing desk is a PreSonos StudioLive AR8c which is an analog front-end mixer with four high-gain XMAX mic preamps and an 8x4, 24-bit, 96 kHz, USB-C-compatible, USB 2.0 audio interface. I have to confess I'm a bit if a PreSonos fan boy, so the another item I used on a daily basis is the FaderPort 8, an 8-channel Mix Production Controller. The combination of my laptop, mixer and production controller replaces to some extent the traditional set up of a studio kitted out with a traditional mixing console, tape machines and outboard effects units such as reverb and delay, etc. Drum beats are created using my ATOM - Production and Performance Pad Controller (again from PreSonos). 
Surprisingly, my main studio monitors are not from PreSonos (although do own a pair of small of Eris E3.5 Active Media Reference Monitors) but are a pair of M-Audio BX5 D2 70-Watt Bi-Amplified monitors, which I have used from day one since creating my small home studio. My midi keyboard controller of choice is the Arturia KeyLab Essential 61. It doesn't have weighted keys, but is more than good enough for what I need, besides, it comes bundled with some great software synths and represents good value for money. 
Most of our work and recording is created using virtual instruments, with mixing and mastering done "In The Box" meaning that I don't often have the need to record live audio or use a studio microphone. However, I do own a couple of microphones should the need arise. Both Jon and Stuart record at home using their own equipment after which they send the recorded audio, which I incorporate into whatever project or mix we are working on at that moment. 
So there you have it, a brief introduction to some of the gear that brings our music and ideas to life. Behind all this equipment are numerous instruments, synths, guitars, and software plugins that are also used on regular basis. But that's a story (or blog) for another day.