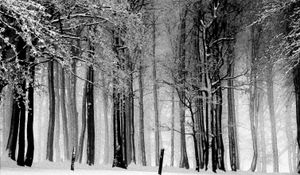 Album Review By Andy Smith
That Sfumato Effect are a three piece that live up to their unusual name. They are making their own sound out of a blend, maybe a fusion of many alternative pop sounds. They span and merge a few genres, which probably reflects the musical tastes of the three band members who write and record remotely. 
Where Are The Angels? It's not a classic on first listen, but it becomes one after several listens. You will fall in love with this eclectically, musically, diversely universal album. 
So how diverse? Think Mike Scott. Think George Harrison. Imagine Crowded House jamming with XTC. Then bring in Matt Johnson of The The and you might now feel the depth of That Sfumato Effect. 
So what about the actual album? The first 3 tracks are 'The Dark Side' and the last 4 are 'The Light Side'. The title track starts the album off with a very strong statement of intent. A solid sound with fantastic background and nice chord changes. I never thought I would write this next sentence, but, it gives the feel of The Waterboys meets Iron Maiden meets The Pope. Weird I know, but the influences are all there. (Listen to Pope Francis – Wake Up). Although I'm not sure The Pope would agree as lyric wise they are polar opposite, with 'Angels' questioning the very existence of God! 
Sweet Scented Cherry Bomb continues 'The Dark Side' theme. Possibly an ode to an addiction. Superb lyrics that bring Difford and Tilbrook to mind. The chorus is a damn earworm, even the backing vocals get stuck in your head. With the Bowie-esque spoken outro, the whole song is very theatrical. It reminds me of Jellyfish with its unconventional arrangements and backing vocals. 
If Lloyd Cole and Matt Johnson sat down together and wrote a song, it would be I Can See Your Face. A beautiful, piano led song with heartfelt lyrics, that shows off the depth of the vocal talent of Stuart. In a weird sub-note, there is almost a Christmas vibe to it and I could imagine Jamie Cullum turning it into a Christmas number one. (I know. Weird reviewers mind.) 
Track 4 sees us being taken to 'The Light Side', with Born To Be Free. Another strong song with meaningful lyrics. There is a XTC style to both the lyrics and sound. The intricacy of the background music (and sounds) is very reminiscent of George Harrison. 
Pandora follows and after going through Springsteens Tunnel of Love it morphs into one of the best Crowded House songs that Neil Finn never wrote. Yet another catchy track on an almost impossibly earworm laden album. 
Mr Heartache is a jolly song with a lovely touch of brass in the background and great backing vocals. 
The final track I want to call 'Deaven'.  The Girl From Devon starts reall well and hooks you in. Again the background and arrangement is superb, very Lloyd Cole with a touch of The LA's' repetativeness in the chorus. Talking of the chorus, rhyming Devon with Heaven is surely songwriting 101 NoNo!  Yet you can almost forgive it after a few listens. 
That Sfumato Effect have produced an album that encompasses three talented musicians eclectic tastes. It hooks you in. It stays in your head long after the last song fades away. That to me is a sign of a great album. If you find yourself humming one or two of the songs whilst walking the dog, or shopping for essentials like wine and cheese, then the album is a great combination of catchy lyrics and hummable tunes. 
'Where Are The Angels?' – Hopefully the three of them are in their studios recording the follow up.